of the Consolidated PBY-5A Catalina. The oldest (1941) and without doubt the finest flying Catalina of the world.
So on november the 15th, 2016 the old lady became 75 years!
You can fly with us and experience a landing on the water, individually or sponsored by your company. In this way you help us to keep the Catalina flying. That is the main purpose of the Stichting Exploitatie Catalina PH-PBY.
We cannot make it more unique!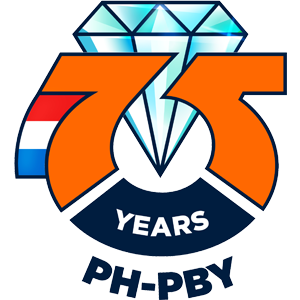 For quite some time a group of volunteers has been occupied with restoring aeroplanes for display in museums. Of course part of the reason was to avoid that historical heritage would disappear abroad. During the organisation of the 50 year jubilee of Squadrons 320 and 321, the oldest Dutch Air force squadrons, several initiatives were taken. One of those was the founding of Stichting Neptune Association(SNA). This way, with support of the Dutch Navy, we hoped to prevent that historical heritage would disappear and it offered structure for the organisation.
Our activities were certainly noticed. There are not many organisations that restore aeroplanes with volunteers. Also stood out that most restoration projects were related to the military. The main players of the SNA all worked at Navy Airbase Valkenburg so an perfect working situation developed for the Stichting.
Home of the Catalina is at Lelystad Airport (the Netherlands), in the Catalina hangar. From October 1, 2016 it will also be home of the DDA (Dutch Dakota Classic Airlines). So a hangar with historic aircrafts.
From this base the Catalina is serviced and ready prepared to fly. For sight seeing flights we can start from various places, such as the hangar itself, or from Museum Theme Park Aviodrome. For an event, there are various possibilities.
Anyway Lelystad Airport is our base.